Lice are one of the problems that concern parents, they are widespread among children and they are highly contagious, but is it possible to treat lice at home?
Lice are insects that spread abundantly among children, and they are stubborn, which makes treating them a little difficult. Lice live in the head to nourish from the blood in the scalp, but how is it treated at home?
1- Mayonnaise
Mayonnaise can be used to treat lice, as it suffocates and thus kills it.
To do this you must do the following steps:
Apply mayonnaise to the entire scalp
Cover your head with a bathrobe and leave it until morning
In the morning, use the lice comb to comb the hair
Wash your hair well after that.
You may need to wash your hair several times to get rid of mayonnaise, but your treatment for the problem of lice is more important!
2- Tea tree oil
Tea tree oil is used to treat lice at home. According to the doctor (Danielle Fisher), this tea has sterile and antiseptic properties that help you get rid of lice.
You can use this oil in the same way as mayonnaise, limited to two or three days a week.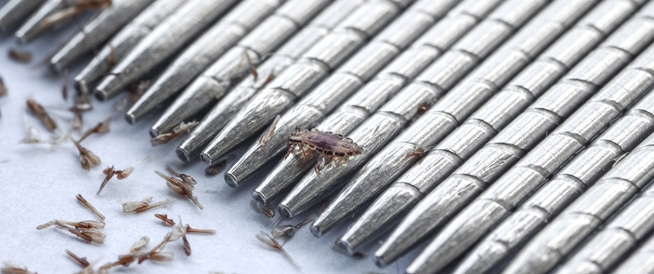 3- Coconut oil
Using coconut oil helps you get rid of lice, as it reduces the infection that accompanies this infection, due to the natural nature of this oil that reduces the movement of lice and its transmission to others.
Apply coconut oil to your scalp, do not forget any area in it, then repeat the above process.
You can apply this home remedy to get rid of lice forever.
4- Hairdryer
Have you ever thought that a hairdryer helps treat lice at home?
A hairdryer does not kill lice, except that, with the help of other home remedies, it helps eliminate lice eggs, and thus protects you from their reproduction!
5- Comb the hair while it is wet
Doing combing wet hair will help you get rid of lice faster, as lice cannot get attached to the hair in this case.
Use the lice comb, split your hair into small groups, and comb each group until lice stop falling.
You can use a hair conditioner while doing this, or one of the home remedies mentioned in this article.
6- Garlic for treating lice at home
Using garlic with a strong smell and jet is believed to help kill lice and eggs, too.
You can apply this remedy by:
Puree 8-10 cloves of garlic
Squeeze some of the lemon juice on it until you get a firm mixture
Apply this mixture to the scalp and leave it for about half an hour.
Repeat this treatment weekly for a month or two.